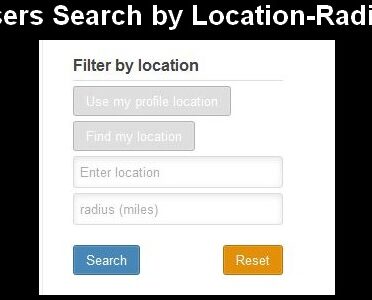 Elgg Custom Profiles Search – Search By Location Radius Add-on Elgg 1.8 – 1.12
Category: Plugins
Custom Profiles Search – Search By Location Radius Add-on plugin for Elgg versions 1.8, 1.9, 1.10, 1.11 and 1.12. This Premium Elgg plugin is an Add-on for our Elgg Custom Profiles Search that adds more functionality to Search. This Premium Elgg plugin extends Search Users Form with Location and Radius inputs allowing to search users by their Location and by Radius in Miles, Km or Meters. Using Google Geo-location API it converts users location profile field to Geo coordinates that is saved in database for searching by Radius ("Near me"). Every time user changes location, plugin triggers a hook to update coordinates. The plugin also uses Telize GeoIP API to find logged in user location for quick "Near Me" search of users. In plugin settings page admin can add Google API key, set Unit of measurement for Radius search (Miles, Km or Meters), Geo locate existing users. Displays 2 buttons that on click populate Location input on search form with either logged in user location from profile or gets your location from your IP, making search "Near Me" very easy.
Custom Search By Location Radius Add-on Features
Here is a list of some of the available functionality of this plugin.

Search Elgg users by their Location.
Search Elgg users within the Radius of your Location.
Buttons on click populate Location input on search form.
Unit of measurement for Radius search (Miles, Km or Meters set in plugin settings page).
Convert users location profile field to Geo coordinates with one click.
Geo coordinates are updated automatically every time user changes location in Profile.
Add your Google API key
Add your Telize URL if you have script installed on server
Elgg 1.8, 1.9, 1.10, 1.11 and 1.12 compatible
And more…
Copyright 2018 - Juipo.com